Increase your sales with SMS Marketing
& build a base of loyal customers
Business owners of hair salons and spa centers can undoubtedly benefit from SMS marketing, since they are capable of reaching successfully their audience, in order to promote further their services.

Through SMS marketing you can increase both customer loyalty and your business profitability as well. The recipe is easy and simple: send the right information, to the right audience at the exact right time.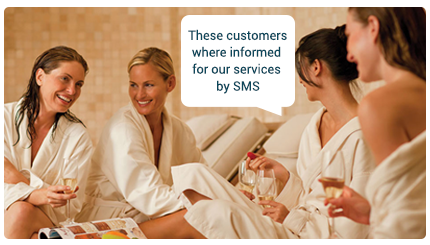 ---
How you can take advantage of SMS marketing
When it comes to beauty services, women are always interested in both learning more about specific products and services, as well as finding out how they are going to benefit from them. Mobile marketing enables you to send all this valuable information directly to your target group, while at the same time keeping your customers updated regarding your latest news:


promotions and special offers about haircut, hair styling, manicure, pedicure
promotions or discounts on beauty services regarding special days (birthdays, celebrations)
inform customers about new products & services
appointment reminders
mobile coupons
organize contests with QR codes
announcements or invitations about special events
updates regarding beauty tips & proposals
SMS Marketing is most cost efficient marketing channel.
With SMSARENA you can improve customer service, generate sales and keep down your operating costs. Some features of our basic features are the following:



Live Statistics
Get full control of your SMS Campaigns & view detailed delivery reports.
Schedule your SMS campaings
Plan ahead your bulk SMS campaigns for a future date & time and relax.
Sender Name
Create specific sender names for your account. For example you could use your company's name.
Easy Web Access
Take advantage of our responsive Bulk SMS Platform and send bulk SMS from any device.
Address Book
With Address Book you can create, save and edit your contacts online.
API
HTTP API, SMPP and SMTP connections for quick and easy sendings from your applications or your website.